Correa slams report on CIA role in Ecuador strike- Quito (AFP) - Dec 23, 2013 - Ecuador's President Rafael Correa warned Monday that reports US intelligence played a role in a 2008 Colombian attack on FARC rebels in his country could threaten regional peace efforts.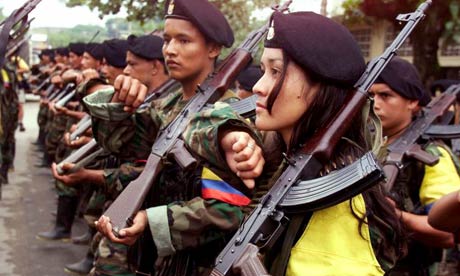 Over the weekend, the Washington Post reported that a secret Central Intelligence Agency program had helped Colombia kill at least two dozen leftist guerrilla leaders.

And, according to the report, it was thanks to US intelligence that the FARC number two, Raul Reyes, was found and killed in a cross-border attack on Ecuador in 2008 that left 24 dead.

Ecuador temporarily broke diplomatic relations with its Andean neighbor following the incident.

On his Twitter account, Correa wondered if these "very serious" revelations and other recent disagreements between his government and Washington were simply coincidence.

He speculated that the report was an attempt to affect Ecuador's relations with the United States and Colombia and "above all, the peace process" under way between Colombia and the FARC.

"At this point, I don't believe in 'coincidences.' Colombia and the international extreme right are capable of anything!" he wrote.

According to the Post, a secret CIA program in Colombia was initially authorized by president George W. Bush around 2000 and has been continued under his successor Barack Obama.

The covert operation provided intelligence to help locate the FARC leaders and supplied a special GPS guidance kit that helped Colombia convert standard bombs into precise smart munitions.

The 2008 incident triggered a diplomatic crisis between Bogota and Quito, with Ecuador suspecting the attack was orchestrated with the help of the United States, despite denial from Colombian authorities.

The governments fully restored relations in 2011....read more: http://news.yahoo.com/correa-slams-report-cia-role-ecuador-strike-213223229.html